Miramichi River Accommodations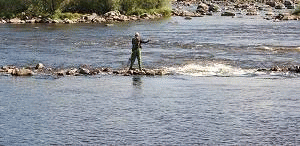 Recent Miramichi River Travel Articles
Kouchibouguac & Fundy Parks
Kouchibouguac National Park and Fundy National Park are different but essential visiting.
Between Miramichi and Fredericton runs a route that tells tall tales of both fly fishing and lumberjacks. The Miramichi River is approximately 250 km (155.3 mi.) long and is divided into the Southwest Miramichi River and the Northwest Miramichi River. Its history is imbedded in stories around the river's bends, most of which are named. Known as the river of the Atlantic Salmon, many spots along the route offer fishing vantage points with nearby fishing lodges. However, only fly fishing is allowed and it is highly regulated to protect the spawning salmon.
Near Miramichi Bay is the village of Tabusintac with its neighboring islands and sandy beaches. The City of Miramichi is a gateway city of about 22,000 people, and is called a City of Festivals including being host to the oldest folk song festival in North America. The river enters forested inland and soon Blackville Village appears, where forestry and sport salmon fishing have ruled for years. A footbridge at Priceville allows visitors to walk across the Southwest Miramichi River from a few feet overhead. Near the center of New Brunswick is Doaktown, offering many opportunities for outdoor activities. And the oldest village in Canada, Metepenagiag, offers an up close visit with Mi'kmaq natives and their in depth knowledge of the river and forest.
Our hotel is located in the heart of downtown Miramichi, offering rooms overlooking the scenic Miramichi River. We are close to popular tourist attractions like Beaubears Island, French Fort Cove Nature Park, the Miramichi Civic Center, Miramichi Dragway Park and Lord Beaverbrook Arena.
Distances to…
Downtown Miramichi: 10km

Econo Lodge Miramichi

365 Pleasant Street
Miramichi
The B&B is an upscale bed and breakfast offering an uncluttered mix of antiques and new soft furnishings with ample space, high ceilings and inviting King/Queen and Twin-size beds. We supply luxurious linens, soft robes, hairdryers, makeup mirrors and fine amenities in each ensuite bathroom and each room has a television, and high speed wi-fi internet access.
Distances to…
Downtown Miramichi: 11.5km

King George B&B

561 King George Highway
Miramichi
At our Miramichi, New Brunswick hotel you will experience comfortable, tastefully decorated guest rooms and two room suites. You will appreciate the added value of our free deluxe continental breakfast, free wireless internet, free video movie rentals, free local calls and morning newspapers and more. Free morning newspapers, 24 hours coffee, tea, hot chocolate and cookies at no extra charge.
Distances to…
Downtown Miramichi: 12.2km

Ramada by Wyndham Miramichi New Brunswick

333 King George Highway
Miramichi
Situated on 10 acres next to Miramichi River, this waterfront estate offers historical tours and river view rooms. Inn includes 2 historical houses, a carriage house, conservatory and general store. Guests can relax in front of a fireplace with a book from the library. They can also enjoy the music room, which offers a piano and Chess.
Distances to…
Downtown Miramichi: 12.4km

Governor's Mansion

62 St. Patrick''s Dr.
Miramichi
Welcome to our Miramichi Inn & hotel, conveniently located off Highway 430 with the picturesque Miramichi River just beyond our doors. Our pet-friendly setting provides clean and comfortable guest rooms along with easy access to the area's top attractions, including fast-paced fun at the Miramichi Dragway Park.
Distances to…
Downtown Miramichi: 12.3km

Situated in Miramichi, New Brunswick, just 5 minutes' drive from Middle Island, this riverfront hotel offers on-site dining and an indoor pool. All comfortably furnished guest rooms include free Wi-Fi. Each room at Rodd Miramichi features a flat-screen TV with cable. Boasting pine furniture and rich décor, each room includes tea and coffee making facilities. A fridge is included.
Distances to…
Downtown Miramichi: 0.24km

Rodd Miramichi River

1809 Water St.
Miramichi
O'Donnell's Cottages & Expeditions
Hollowood's Sporting Camps
Nine Pines Fisherman's Rest
Spencer's Fishing & Hunting Lodge
Stoddard Hunting and Fishing Camp
Pioneer Lodge & Log Cabins
410 Cumberland Bay South Rd.

Travel In NewBrunswick offers a number of methods for boosting your NB accommodations business via the Internet.
Miramichi River Communities